"R is for Rosary" by Barbara Gowan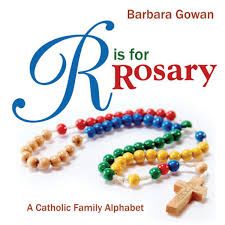 "R is for Rosary" by Barbara Gowan
Each letter in the alphabet represents a facet of the Catholic faith. A rhyme, text and sacred art illustration along with a prayer written by a child complete the page.
R is for Rosary – a Catholic Family Alphabet is truly a collaborative effort involving my spiritual companion Sr. Patt, my critique group, art designer Lorien, business partner Debra LaPlante, and the Holy Spirit. Yes, I believe that! I remember how I felt after writing the text on the R page. I reread it and wondered where those words came from. Surely the Holy Spirit guided me. When it came to deciding how to illustrate the book, the Spirit was present again. I had just finished writing about St. Kateri Tekakwitha and was shutting the computer down when my photo library opened up. I clicked on a thumbnail (I have over 20,000 images in my library) and it was the photo of the icon of St. Kateri that I took at the San Carlos Mission on the Apache reservation. It was then that I had the idea to illustrate the book with images of sacred art. And to think that this book would still be packed away in a crate under the table in my office if it wasn't for the 4th graders at Ss. Simon and Jude. I was visiting the school with my book D is for Desert and they asked if I was working on any new books. When I told them about R is for Rosary, they gasped as if I was writing this book for each one of them. And in a way, I did. I went home that day and started on it. I unpacked my research, wrote (and rewrote) the manuscript, and photographed sacred art wherever I could find it including Ireland. Upon completion, I dedicated the book to the students at Ss. Simon and Jude Cathedral School in Phoenix for inspiring me to finish it. Author Barbara Gowan.
130 pages, hardcover.