Seraphym - Amber Swarovski Crystal Rosary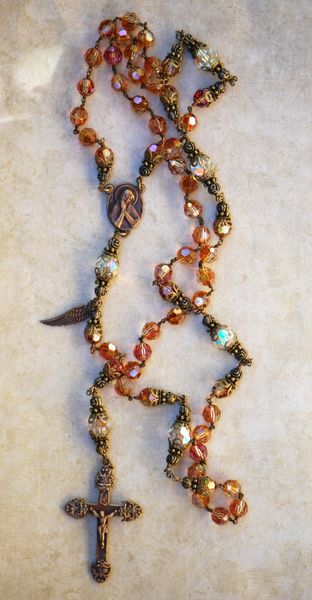 Seraphym - Amber Swarovski Crystal Rosary
SERAPHYM DESIGNS:
This is an original and unique Seraphym Heirloom rosary. Each bead is handwired for longevity…The color choices are chosen for their beauty and grace.
THE BEADS:
The beads are a stunning 8mm amber-copper and 10mm clear Swarovski crystals. A beautiful combination of color and quality.
THE MEDALS:
The medal is a 1″solid bronze hand cast design depicting Our Lady of Sorrows (front) and The Sacred Heart of Jesus (back). (Germany, early 1900's)
THE CRUCIFIX:
The crucifix is a solid bronze 2″ Fleur de Lys Cross (France).
A trademark solid Bronze Seraphym Angel Wing charm is attached to every SERAPHYM DESIGN to serve as a reminder for us to share our wings with those who have lost their own.
Note from Teresa and Craig: The artist, Arasely Rios, who creates these rosaries is as beautiful and wonderful as the pieces she creates.!!!
Free Shipping!