Seraphym - Clear Crystal Divine Mercy Rosary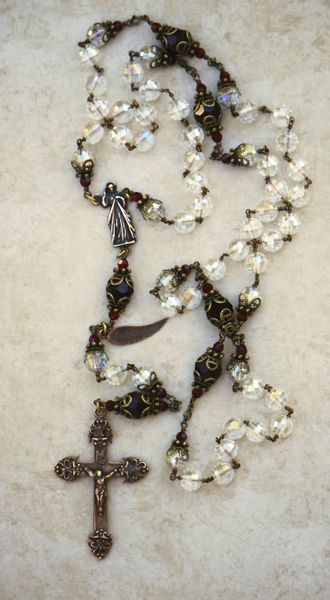 Seraphym - Clear Crystal Divine Mercy Rosary
This is an original and unique Seraphym Heirloom rosary. Each bead is handwired for longevity…The color choices are chosen for their beauty and grace.
THE BEADS:
The beads are 8mm clear crystals with Ruby Swarovski crystal accents. They represent the clear and red rays of light that flow from the Divine Mercy painting: the blood and water that gushed forth from the heart of Jesus.
THE MEDALS:
The medal is a solid bronze Divine Mercy design.
THE CRUCIFIX:
The crucifix is a 2.5″ solid bronze hand cast design depicting a fleur de lis at each end of the cross.
A trademark solid Bronze Seraphym Angel Wing charm is attached to every SERAPHYM DESIGN to serve as a reminder for us to share our wings with those who have lost their own.
Note from Teresa and Craig: The artist, Arasely Rios who creates these rosaries is as beautiful and wonderful as the pieces she creates.!!!
Free Shipping!